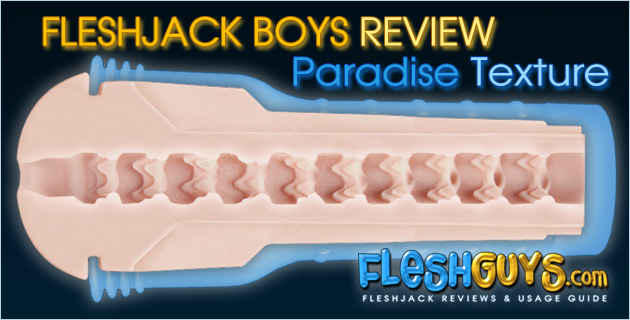 Review: Fleshjack Boys Paradise Texture (Jean-Daniel Chagall)
---
Inside the Fleshjack Paradise canal are situated a total of ten very distinctive wavelike cross-ribs which subdivide the canal into eleven small chambers. For experienced Fleshjack users, this texture concept is immediately reminiscent of the Wonder Wave canal of the Fleshjack Originals series although with a larger number of chambers and ribs (14 each) and with less distinctive cross-ribs.

The Fleshjack Paradise canal starts with a 0.6 inch (15 mm) tight bell-shaped entrance passage and then the canal widens to a diameter of 0.8 inch (20 mm). The inner surface is completely covered by 0.4 inch (20 mm) wide cross-ribs in distances of 0.8 inch (20 mm). These cross-ribs have a wavy shape and are double-rowed, meaning that a second smaller wave is situated on top of each wave. At the highest point of each double wave, the inner canal tightens to a diameter of 0.55 inch (15 mm). As a result, the cross-ribs form a system of eleven chambers, each about 0.6 x 0.8 inch (15 x 20 mm) in size.

The Paradise insert, as is common with the Fleshjack Boys series, is an exclusive inner texture - this time that of Jean-Daniel Chagall - and is therefore only purchasable in combination with the butt orifice of the gay porn star.
Upon penetration into the tight anal opening, an intense and brief tightness sensation appears and then the heavy double-rib texture strokes with wonderful intensity over the penis head. Because the ribs protrude widely into the canal, they powerfully tighten the inner diameter at numerous points. This varying tightness results in incessantly alternating counter-pressure that generates, in high frequency, many incredibly intense and smooth stimulation impulses on the head of the penis.

As you penetrate deeper, you can clearly feel the double-ribs gliding along the penis shaft while at the same time the tight butt orifice firmly and pleasurably wraps around the base of the penis. Compared to the Wonder Wave canal, the frequency of the penis head massage is a bit lower but, as a result, the doubled cross-ribs are far more intensely noticeable.

With a normal penis length of 5.9 inches (15 cm), you are able reach to the first six chambers and their cross-ribs, which is completely satisfactory for experiencing the optimal stimulation pleasure the Paradise canal has to offer. Additionally, the four unreachable rear chambers provide a great suction effect because plenty of vacuum can build up in this part of the canal.

The clean-up of the Paradise canal is quite tedious because a lot of sperm and lube residues get trapped inside the chambers and therefore have to be thoroughly cleaned out. The drying time is average, lasting about 2 - 3 hours.