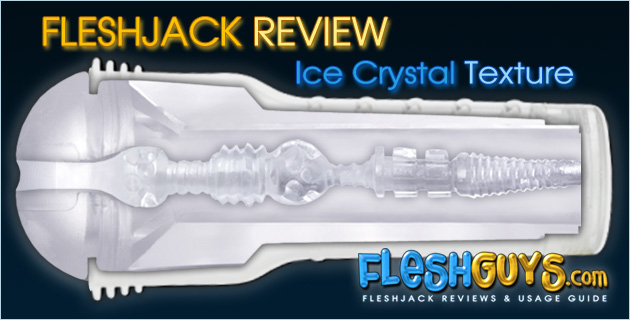 Review: Fleshjack Icejack with Ice Crystal Texture
---
The Fleshjack Ice (or Icejack) has been available now for quite some time. The only difference between the Ice inserts and those of the other Fleshjack Originals is the color of the insert - the Ice insert's color is not skin-toned but is of milky transparency. The look of the material resembles actual ice, which is why the name Fleshjack Ice was chosen for the product line. Other than the color, there was no other difference and the Ice was combinable with the same inner textures and the same orifices as the Fleshjack Originals product line.

The Fleshjack producer ILF has now completely revamped the Fleshjack Ice series. While the Ice Mouth, Ice Bottom and Ice Jack Ass orifices remain the same, a new texture called Crystal has now replaced the seven previous inner textures.

The Crystal canal begins with a sphere-shaped chamber, measuring 0.6 inches (or 15 mm) in diameter with a ring of several angular trapezoid-shaped bumps. Next comes a passage which widens to 0.6 inches (or 15 mm) and also contains a ribbed texture that, however, is more distinctive than the one that proceeds it. The canal then transverses into another sphere-shaped chamber, measuring 0.7 inches (18 mm) in diameter, covered with four cylindric-shaped bumps and a number of hemispheric-shaped bumps. This is followed by a tight 0.4 inch (or 10 mm) wide connection passage that continues on to a 0.6 inch (or 15 mm) chamber that has oppositely arranged rectangular-shaped indentations in the side walls. At the end of the canal is a chamber in the shape of a teardrop that is covered by a rather light ribbed texture.
After having tried out the new Crystal texture, it is clear that the idea of combining the variously sized chambers and the alteration between the rib and bump textures was a good one. Few Fleshjacks provide such a varying array of diverse stimulations.

Once you penetrate the Crystal canal, you immediately feel the intensity of the trapezoid-shaped bumps in the initial chamber impacting the penis head as the penis shaft is grasped by the ribbed connection passageway, creating an enjoyable tightness sensation. The tightness tappers off after landing in the second sphere-shaped chamber while the cylindric-shaped and hemispheric-shaped bumps work "one by one" on the penis, bringing about an intensely detectable massage.

With an average dick length (5.9 inches or 15 cm), you will just be able to reach the following connection passageway, which offers yet another enjoyable sensation of tightness. The final pair of chambers unfortunately cannot be reached. On the backward movement, you once again pass through the two spherical chambers and the ribbed constriction located between them. When thrusting in and back, you notice a continually varying degree of tightness as well as the altering stimulation of the bumps and ribs. The result is superb and highly intense stimulation that quickly leads you to a powerful orgasm.

The cool thing about the Fleshjack Ice is that you can see your dick because the Fleshjack Ice case, like the material itself, is transparent. You thus are able to see precisely where your dick head is and can then proceed to your favorite part of the Crystal canal.

The clean-up of the Fleshjack Crystal canal is relatively demanding because of the greater amount of sperm and lube residues that gather between the bumps and inside the various chambers. Because of this, it is best to turn the insert inside out for a bit when cleaning. It is also recommended to wipe the inner texture off with paper towels, in order to reduce the comparatively long drying time.

Note: The Fleshjack Ice's transparent material contains no color pigmentation and so the surface is somewhat stickier after cleaning than the typical (colored) Fleshjack inserts. Because of this, it is recommended to apply Fleshjack Renewing Powder or 100 percent pure talcum powder to the Ice Crystal insert. This will alleviate the stickiness and will preserve the insert's silky softness for future use. For more detailed information concerning Fleshjack care, click here: Fleshjack Cleaning and Care