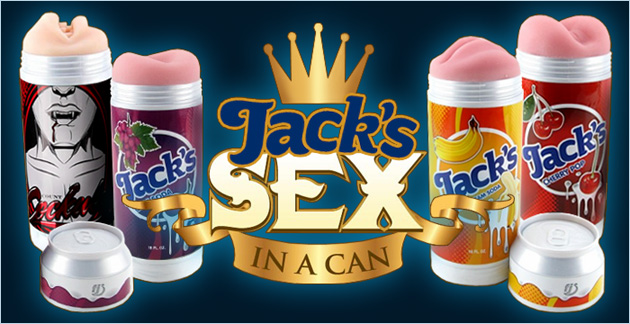 Review and Rating: Fleshjack Jack's Soda - Sex in a Can
---
Jack's Soda - Sex in a Can products form another product line of Fleshjack producer ILF. This basic concept of the Sex in a Can product series is the same as that of a typical Fleshjack - silky, soft Real Feel Superskin material is inserted into hard plastic casing. However, unlike the flashlight shape of an ordinary Fleshjack, the case of a Sex in a Can masturbator is shaped like an everyday soft drink can. Thanks to this appearance, a Sex in a Can is even more inconspicuous-looking than a Fleshjack and is as discrete as carrying around a similarly sized (16.9 oz or 500 ml) beverage can. And keep in mind that a "butt in a can" makes for a unique gift idea for a friend or as a good party gag.

Despite the difference in outward appearance, the basic structure of a Sex in a Can is very similar to that of a Fleshjack. Like a Fleshjack, screwable caps are placed at the front and back of the Sex in a Can's can-shaped casing. The purpose of the front cap is to protect the insert against dust and other environmental elements as well as detection while the rear cap is used to regulate the vacuum in the inner canal. In addition, a Sex in a Can insert can be removed from the casing for purposes of warming up before use and for cleaning and drying afterwards.
With a case length measuring just 7.9 inches (or 20 cm) and a maximum diameter of 2.8 inches (or 7 cm), a Sex in a Can masturbator is a bit smaller than an ordinary Fleshjack that has casing measuring 9.8 (or 25 cm) and a maximum diameter of 3.9 inches (or 10 cm). Due to the decreased diameter, the overall counter pressure is increased because the walls of a Sex in a Can insert are not able to expand as much to the sides. As a result, the Sex in a Can canals offer a significantly enhanced tightness sensation in comparison to that of an ordinary Fleshjack canal.
Because the Sex in a Can masturbators are shorter and tighter than other Fleshjack products, they can be especially interesting for guys with average-sized (5.9 inches or 15 cm) or shorter dicks. Because the dimensions of typical Fleshjacks are rather "over-dimensioned", most guys cannot reach the chambers at the rear. If you were not bestowed with an 8-inch dick and if you would like to experience, for example, the Swallow texture all the way to the end or if you'd like to get to the back chambers of the Lotus texture, have a good look at the Mini-Swallow and Mini-Lotus textures of the Sex in a Can product line.

A disadvantage of the Sex in a Can masturbators is the absence of a choice of orifices. While there are a number of differing butt and mouth orifices available with typical Fleshjacks, a Sex in a Can product comes exclusively with its own orifice that has its own texture.

Because the can-shaped casing of a Sex in a Can, unlike a typical Fleshjack case, has no finger grooves, it is not as easy to grip. If your fingers are covered with lube, the totally smooth surface of the Sex in a Can case can be rather slippery. On the other hand, due to its lighter weight and smaller size, the Sex in a Can case can be easier to handle than that of a big Fleshjack.

The following Sex in a Can models are currently available for purchase: